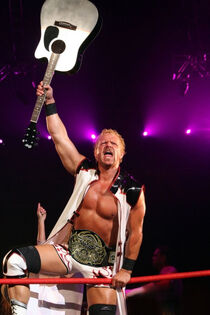 The TNA World Heavyweight Championship was a professional wrestling world heavyweight championship contested for in the iMPACT brand of WWE dfor Extreme (WWEFE, or just WWE). After the formation of TNA in June 2002, the company executives signed a contractual agreement with the National Wrestling Alliance (NWA) that allowed them control of the NWA World Heavyweight and World Tag Team Championships. TNA subsequently changed their name to NWA–TNA, making them an official subsidiary of the NWA in the process.
The NWA World Heavyweight and World Tag Team Championships were contested for in TNA until the morning of November 27, 2006. On that day, WWE for Extreme purchased TNA and all of its properties, effectively severing any connection to the NWA. In a press release, it was revealed that effective that morning, then-NWA World Heavyweight Champion Abyss and the 3Live Kru trio of B.G. James, Ron Killings and Konnan, then-NWA World Tag Team Champions, were stripped of their respective championships. That Thursday, iMPACT! aired under WWE's banner, and the TNA Championship and TNA Tag Team Championship belts were debuted, alongside the Canadian Championship.
Title reigns are determined either by professional wrestling matches between different wrestlers involved in pre-existing scripted feuds, plots, and storylines, or by scripted circumstances. Wrestlers were portrayed as either villains or heroes as they followed a series of tension-building events, which culminated in a wrestling match or series of matches for the championship. The inaugural champion was Jeff Jarrett, who became the champion after defeating Chris Hunter on November 30, 2006 on iMPACT! Jeff Jarrett has the most reigns, with three. At 42 days, Chris Hunter's second reign is the longest in the title's history. David Styles has the shortest reign in the titles history with his second reign lasting less than a day. The title is currently retired after WWE closed its iMPACT! brand.
Title history
Edit
| | |
| --- | --- |
| # | Order of reigns in history. |
| Reign | The reign number for the specific set of wrestlers listed. |
| Event | The event promoted by the respective promotion in which the titles were won |
| — | Used for vacated reigns in order to not count it as an official reign |
| # | Wrestler | Reigns | Date | Days held | Location | Event | Notes |
| --- | --- | --- | --- | --- | --- | --- | --- |
| | | | | 3 | Orlando, Florida | | Jarrett defeated Chris Hunter to become the inaugural champion. |
| | | | | 14 | Philadelphia, Pennsylvania | | |
| | | | | 4 | Augusta, Georgia | | This was a Three Way Dance also involving Jeff Jarrett. |
| | | | | 38 | Orlando, Florida | | |
| | | | | 11 | San Antonio, Texas | | This was a No Holds Barred match. |
| | Vacated | — | | — | Orlando, Florida | | Styles was forced to vacate the title while he had reconstructive surgery performed on his torso. |
| | | | | 42 | Los Angeles, California | | Hunter defeated Refugee Matt in a Six Sides of Steel Dog Collar match for the vacant title. |
| | | | | 0 | Detroit, Michigan | | |
| | Vacated | — | | — | Detroit, Michigan | | Styles retired that night, vacating the championship within minutes of winning it. |
| | | | | 0 | Orlando, Florida | | Jarrett defeated Refugee Tim and Chris Starr in a Three Way Dance to win the vacant championship. |
| | Retired | — | | — | Orlando, Florida | | On April 12, 2007, WWE officially closed its iMPACT! brand. The title was retired, although Jarrett would continue to wear the belt for months as part of his gimmick, his reign officially ended an hour after he won the title. |
List of combined reigns
Edit